At ISZN we aim to deliver authentic and meaningful learning experiences.
As a multi-cultural day school located in the north-eastern suburbs of Zurich, Switzerland, ISZN provides an outstanding education to the children of the international community.

We adopt an innovative approach to educational best practice and provide a relevant and inspiring curriculum, combining the best features of the English National Curriculum with the International Baccalaureate.

Our purposeful and inquiry-based programme features small class sizes, qualified and experienced teachers, a culture of high expectation and the caring qualities of a small school.



As an international school, ISZN is committed to:
Appreciating and respecting individuality
Creating an atmosphere of collaborative, open and rich dialogue
Cultivating, inspiring and valuing critical thinking and innovation
Working towards sustainable local and global practices
Our Mission
At the heart of our ethos and underpinning everything we do is our mission statement.
Ask
We encourage all members of our community to be lifelong learners with endless curiosity and passion for discovery
Act
We inspire open-minded and globally aware pupils, who show respect and willingness to champion positive changes
Achieve
We are committed to challenging ourselves and celebrating our intellectual, creative and physical successes
Jonathan Taylor
Principal

A regular speaker at educational conferences and contributor to the national media on issues relating to schooling and teenage behaviour, Jonathan possesses extensive experience across a range of educational sectors, having worked in state, international and independent education.
Rebecca Nolan
Head of Primary

Having completed post-graduate studies in Early Childhood Education and Advanced Educational Practice, Rebecca has worked across Primary in state and independent sectors in the UK and the UAE.
Sandra Price
Head of Middle Years

With nearly twenty years' experience as a high school teacher, Sandra brings a wealth of experience as both an educator and a leader to her role as Head of Middle Years and History teacher at ISZN.
Maintaining the physical and emotional wellbeing of each child is our number one priority.
Our Global Be Well day is the most visible manifestation of this commitment but it infuses all aspects of school life.

With small class sizes, we ensure that every child is nurtured individually. We strive to cultivate a family community where our students can grow and learn in a safe and pleasant environment.

Close partnerships with our students' families play a very important role in our everyday school life. We organize parent-teacher-conferences on a regular basis and are also happy to arrange individual appointments.
Our wraparound care is there for when the work day doesn't align with the school day.
Early Bird
Early Bird club starts from 8am (Monday to Friday) for children up to 11 years of age and is supervised by a specialist teacher.

Pupils can use this time to work on school projects, practice a musical instrument, or simply pass the time with their friends or the teacher.
After School Care
After School Care (ASC) is available for children up to the age of 13, after the regular school day ends at 3.20pm.

A PYP Home Learning Club runs in conjunction with After School Care, where PYP students in Grades 2-5 can be supervised whilst completing their Home Learning.
We have a busy year ahead of us at ISZN full of exciting experiences for all students.
Term time is packed with inspiring opportunities for both existing students and new joiners. Each day brings another chance to learn, grow and develop as a global citizen.

You can click the link below to download the full calendar for the current school year and see all the key dates for holidays and examinations.

The 2020/2021 school year will commence on
17th August 2020.
Key Dates
Fall Break
5th October 2020 -
18th October 2020
Christmas Break
14th December 2020 -
4th January 2021
Ski Break
15th February 2021 -
28th February 2021
Spring Break
26th April 2021 -
12th May 2021
Summer Break
5th July 2021 -
22nd August 2021
Our school community reflects its location in Switzerland's most diverse city.
Our pupil body is made up from over 25 nationalities, whilst our staff body is similarly multicultural. We pride ourselves on fostering a welcoming and harmonious community.
Parent Teacher Association
Our dedicated PTA meets on a regular basis and organises a selection of school events and activities throughout the year, besides offering their services during field trips and special celebrations.
Student Council
Our student council also plays an important role in determining the agenda of the school; the Secondary school winter ball is but one initiative that has stemmed from the student council.
COVID-19 protection plan
According to new requirements for schools regarding COVID-19, we set up a COVID-19 protection plan, which can be found at the link below. (German only)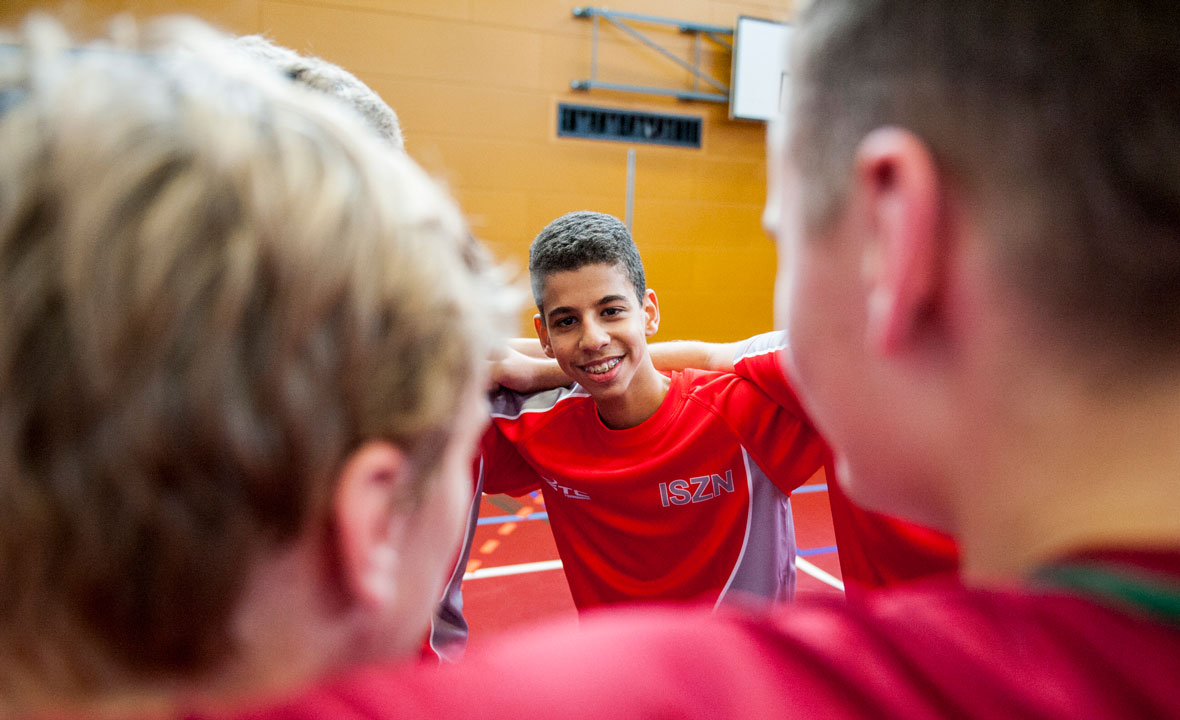 ISZN is proud to be part of the global Cognita Schools Group.
Cognita is an extraordinary group of diverse yet connected schools, joining forces in an inspiring world of education with one common purpose: building self-belief and empowering individuals to succeed.

With over 70 schools in Europe, Latin America and Asia, including 40 in the UK, we employ 7,000 teaching and support staff in the care and education of more than 43,000 students.
To ensure that every pupil receives a rounded Cognita education:
We deliver academic excellence
We develop character
We nurture a global perspective
One of the key strengths of an education at ISZN is our unique and varied curriculum.